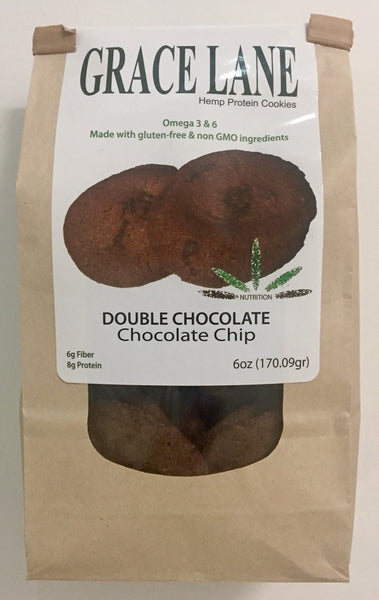 Grace Lane's
Vanilla-Chocolate Chip Protein cookies - GRACE LANE'S
The Grace Lane's gluten-free crispy and buttery chocolate chip vanilla cookies are rich in Omega 3 & 6 and have an addition of hemp protein.  
Ads for acceptable adult/health products must be targeted to 18+ users.
Ingredients: Gluten free flour (brown rice flour, whole quinoa flour, sorghum, tapioca flour & starch, locust flour), semi-sweet chocolate chips, unsalted butter, hemp protein, non-GMO brown and cane sugar, whole eggs, natural vanilla, orange extract, baking powder, salt.
Nutrition Facts: 1 Serving 1 cookie (approx. 17g), Servings per container: 10-11, Calories per serving 60, Calories from fat: 38, Total fat: 2g, Sat. Fat: 1.3g, Trans-Fats: 0g, Cholesterol: 27mg, Sodium: 14mg, Potassium: 45.6mg, Total Carbohydrates: 13.3g, Dietary fiber: 1.1g, Sugars: 3.6g, Protein: 5g.
* We will soon be changing the packaging to printed bags with a different design