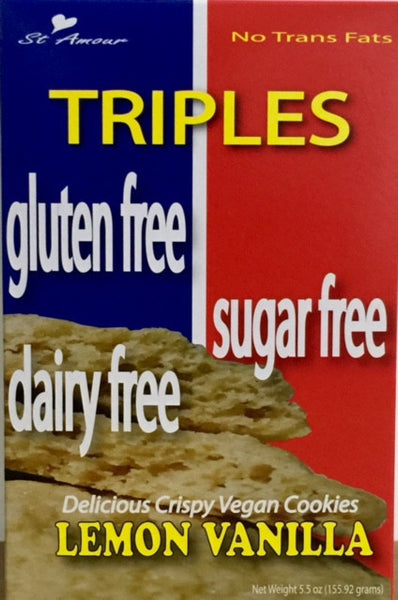 St Amour
Triples - Triple Free cookies - Lemon Vanilla
Delicious Triple Free cookies - Sugar-Free, Dairy-Free, Vegan, Gluten-Free, low carb. The only triple free cookies with great taste and texture.
Ads for acceptable adult/health products must be targeted to 18+ users.
NOTE: For people over 18 years old
Ingredients: Gluten free flour, non-GMO no-trans-fats margarine, maltitol,  natural lemon extract, natural vanilla, baking powder, salt.
1 cookies approx. 9g, Servings per container: 11-13,  Calories per serving 47.7, Calories from fat: 28, Total fat: 2.5g, Cholesterol: 0g, Sodium: 25mg, Potassium: 6.3mg, Total Carbohydrates: 5.2g, Dietary fiber: 1g, Sugars: 0g, Maltitol, 3.5g, Protein: 1.1g.