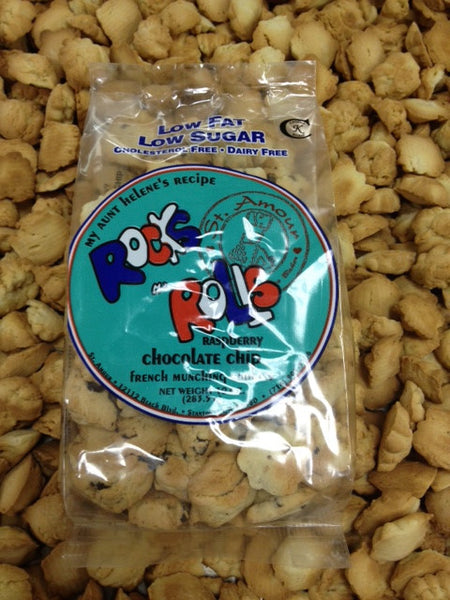 St Amour
Rocks N' Rolls - Raspberry & Chocolate Chips - vegan
Amazing Vegan little Raspberry & Chocolate Chips Rocks N Rolls French munching bites. - low fat and low sugar. 10 oz bags.  A weight Watchers favorite, cholesterol free and dairy free.
Ingredients: Unbleached wheat flour, non-GMO no-trans-fats expeller pressed canola oil, non-GMO cane sugar, dairy free chocolate chips, raspberry extract, baking powder.
NUTRITION FACTS: 1 Serving  approx. (5-6 Rocks) 30g, Servings per container: 9 - 10,  Calories per serving 108,  Calories from fat: 24, Total fat: 3g, Cholesterol: 0g, Sodium: 1mg, Total Carbohydrates: 19g, Dietary fiber: 1g, Sugars: 3g, Protein: 2g.
 A 'withdrawal' that warms up the heart.  
E mail from Chris.
Hi,
Today I went to Whole Foods, expecting to pick up a few more bags of my favorite cookie, "Raspberry Chocolate Chip Rock 'n Rolls", & there were NONE LEFT!!!  There was an empty spot next to rows of the other R & Rs flavors, but NO RASPBERRY CHOCOLATE CHIP!!!  PLEASE drive over
tonight
& put them on the shelf!  I'll check again
tomorrow
!  (I know you can do this because I used to own a food company & if one of our customers wanted something, even a few loaves of bread, we took it to them immediately!) So, I'll be checking again!  I was so upset when I saw that empty row, I got one of the workers to go look for them in the back. That's when I found out that you deliver them yourself.  So, GO NOW!!!  I'm already having Raspberry Chocolate Chip withdrawals!  If you care to send me some Raspberry Chocolate Chip "Rock 'n Rolls", for making me go through this terrible time, please send them to Chris S.-----------------------------, & I'll be so very grateful. If not, there'd better be some in Whole Foods
TOMORROW
!!!
(I need them!  I really do!!!)
Very sincerely,
Chris